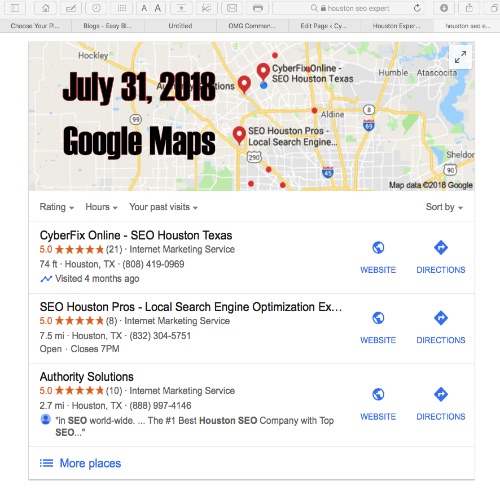 Enough Said – Call Me for your Maps Listing
832-666-8922
I provide on page SEO for local businesses websites, so they show up at the top of the search engines and everywhere else their potential customers are looking for them online based on your keyword profile.  That means, when people are looking for what you offer, on the internet, they choose you, before anybody else!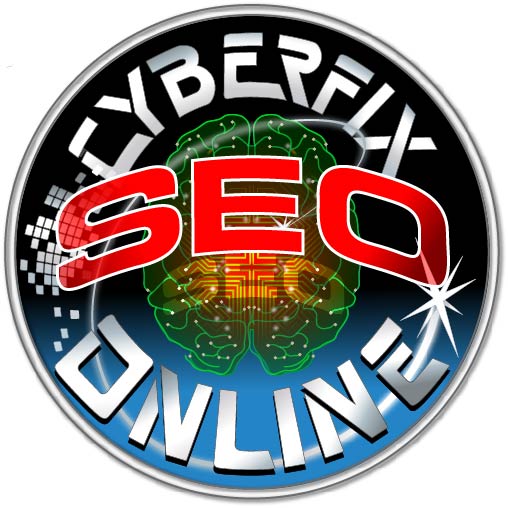 I do  "nearly" everything.  If you are an SEO customer I:
will build your website,
optimize your website,
create and maintain your Social Media,
create authoritative links,
create videos,
edit videos,
publish videos,
I use the Master collection from Adobe including:
Premiere Pro,
Photoshop,
In Design, etc.
For one reasonable flat fee.  We run our own dedicated server so we can host your website, offer unlimited emails.
In short, why be nickeled and dimed to death by everyone you meet.  Give us a call and relax; gain your organic rankings and Maps positioning, and the phone calls that result from a carefully planned and executed optimization plan.
Get quick site SEO Report!
Enter your URL below to get full in-depth SEO report and tips.
SEO which most Internet professionals call Search Engine Optimization, is the process of creating quality content that the search engines will recognize as quality content. This means text. Search engines cannot read images. They cannot watch a movie. Google can now read and index some text that appears inside of Flash, but the results are uncertain.
You can use a Flash intro, but we would rather see you use Flash embedded on an HTML page so the search engines can read it. Before asking why your website is not ranked first, ask yourself, should your site be ranked first? Does your site provide more high quality, valuable, unique information on your industry than other websites? If not, CyberFix will make your website a place where people will go to find accurate information.
Cyberfix Online is a Professional, Expert SEO in Houston Texas providing Search Engine Optimization, Internet Marketing & Page optimized ResponsiveWebsites for the Houston SEO and National SEO marketplace
Search Engine Optimization companies must have talented writers who can use the English language well in order to create quality content for your site. We will use your key word phrases, but not over use them. The experts who write the search engine algorithms know the difference between a quality essay and a simple list of key words, used repeatedly, for no real purpose other than to trick the search engines.
Google gives priority to informational websites such as legitimate newspapers and magazines, social networks, and the broadcast media, over commercial websites that sell products or services. Therefore, in addition to writing articles for your website, it also helps to have an article published, and ask the newspaper or trade publication to link the article to your website.
Brand Consulting

80%

80%

Marketing Campaigns

45%

45%

Custom Website Design

95%

95%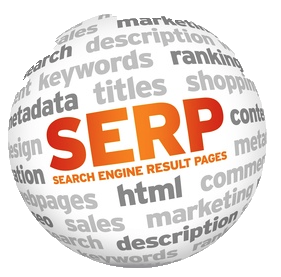 On-Page Optimization
The most important part of Search Engine Optimization is having your web site optimized properly for key words that are being searched for.
Schema
Google and most of the major search engines are using new methods of reading the code on your website to more accurately know what it is that you are offering.  Schema is one of these methods you should have properly set up on your site.
Linking
Having the proper back links from high authority sites is still an ongoing method of gaining superiority in the search engines eyes.  Links from High Domain Authority websites with high trust flow and citation flow are very important to your rankings

Frequently Asked Questions
We would love to help everyone that has requested our expertise as the word is out after we have helped many businesses achieve high levels of success. We select the clients we work with very carefully and have a reasonable set of criteria that needs to be met in order for us to proceed. We only work with a limited amount of clients at any given time to ensure maximum attention to detail and your company's ultimate success.
We work with clients who have?
1. An Active and Healthy business already.
Our services are for companies that are up and running already and simply want to move a lot faster and a lot farther. We do not work with:
• Get Rich Quick Schemes
• Adult Themed Material
• Start Ups – (Unless I have discussed this with you personally)
2. A steady flow of leads and customers. This means that you're getting consistent traffic and making sales already. You're running ads, you're promoting, and you're selling your services. You don't have to be a household name …You just need to be PRESENT in your market.
3. A good, solid product and a good reputation. Everything we do together will not only be bringing you more sales and profits, but we'll be doing it in a way that creates MASSIVE goodwill in your market.
What is your turn around time?
Websites are generally completed in about a week. It really depends on how much of the information you have available for publication and how complex your website is. We will schedule time to go over your ideas and give you some basis in how the process really works. There is a difference between a website and a website that is designed for search engine optimization.
What information do you need?
Please fill out our Discovery form and that will provide us with all the information we need to get started on a study of your needs and requirements.
We have worked with Cyberfix now for over 3 years.  They are very responsive and just do whatever is necessary to make our website and business successful.  If you want videos done, they do it, if you want social media done, they do social media.  There is no haggling and sending bills with every little thing they do, they just do what needs to be done.  We have grown tremendously and would not think of using anyone else for our Search Engine Optimization and ranking in the search engines. Todd Polonski
I can now say that I am a global company.  Since using Cyberfix for SEO I have gotten the largest contract I have ever received and I get business from all over the country.  Go no further.  Get Cyberfix to do your SEO!  Now! Pat Carter
We started with one truck last year and now we have three and we are growing.  The traffic keeps coming in.  Cyberfix is the only company I can and would recommend if you really want your website to rank on google and the other search engines.  We barely keep up now but are having a profitable time trying! Michael Gerbino
Working with Brad has been an extremely positive and stress free experience. Brad knows web design and SEO, he is a PRO! I am so pleased with my new site and web presence! I have made requests and shared ideas, and Brad is always open and finds a way to produce what I am envisioning. I could not be happier. I plan to recommend Brad to others, without hesitation! Cathy C. Staging Spaces and More Cathy Creamer
Search Enging Optimization